IMPALA ROLLER SKATES
Impala Roller Skates Quad Skates 2020
Impala Roller Skates Quad Skates

Whether your skating the rinks or the beach boardwalks let Impala be on you feet. They are made from high quality components and feature:
PVC Upper, Heels and sole
Metal speed lace eyelets
Aluminum Alloy Trucks and baseplate
58mm 82A Duro Wheels
ABEC 7 Bearings
PU Brake Stopper
PETA-approved vegan product
Customer Reviews
Write a Review
Ask a Question
01/19/2021
Ann B.

Canada
01/16/2021
trinity d.

Canada
I recommend this product
Very good
The skates are perfect
01/10/2021
jillian m.

Canada
I recommend this product
Definitely recommend
Definitely recommend! Wasn't sure how legit this website was at first but considering it is the only website I could find that shipped impala roller skates to Canada I thought It was worth a shot! And was not disappointed. The skates came in within a week! I wear a size nine in most women's shoes and the impala size nine fit perfectly!
01/10/2021
emily s.

Canada
01/08/2021
deza-rae k.

Canada
I recommend this product
Best budget friendly beginner skates
Perfect for beginners that aren't willing to spend over $200 on their first pair of skates. Please research before using however cause they do need adjusting, but that's easy if you buy a tool on like Amazon for $10. They have great ankle support with the stiff boot, however if you have wide calves you may need to buy longer laces. I would suggest 108" laces for bigger calves. They are great for wide feet. I haven't skated in them yet, but they feel extremely comfortable and I don't think I'll have any feet problems in them. They don't have arch support but you can always buy insoles cause they seem to have room. Would but again.
01/04/2021
Julia D.

Canada
12/31/2020
Alexandria .

Canada
I recommend this product
Love, Love, Love
I love these skates so much. They fit perfectly even with socks on. They're heavier than I expected but that's okay. Also, I got my skates earlier than expected, the skates had been mailed to me from Alberta to Toronto, ON and the customer service at the store when I called was amazing! I will definitely buy another pair of these skates or any other product from Nomads again.
12/30/2020
SB
Sarah B.

Canada
12/30/2020
JF
Jennifer F.

Canada
12/27/2020
Nikisha E.

Canada
12/23/2020
Holly Y.

Canada
12/18/2020
Sheliza L.

Canada
I recommend this product
First pair of skates!!
I got these Impala skates in all black and I absolutely love them! They fit true to size, and Nomad's customer service was great! Would definitely recommend if you're interested in a pair :)
12/17/2020
Carly F.

Canada
I recommend this product
Looks Great, a Bit Narrow at the Small Toe
I was super excited when I tried them on, having purchased a size 8 since that's what I wear in women's shoe size. The length was OK, but I found the boot a little narrow right at side of my foot and it pressed on the side of my small toe in an uncomfortable way. Ended up selling them to someone locally to recover my money so I wouldn't have to pay to ship them back. My foot isn't particularly wide (a regular medium width shoe is what I typically buy, but something like Chuck Taylor Converse shoes are too narrow for me), so they may be a great option for someone with narrower feet.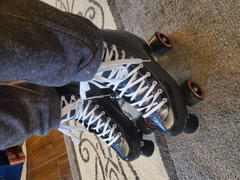 12/07/2020
Kelsey J.

Canada
I recommend this product
Best customer service and roller skates!
Amazing! I had originally planned to buy these from the original but website in the US but found Nomads and saved on shipping and duties! Plus the customer service and shipping speed was perfect! Even got a hand written thank you note in the box with my purchase ❤️ Thank you nomads! Xo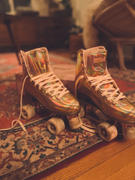 11/27/2020
Judith G.

Canada
Beautiful and Comfy
I have never been able to use rollerblades because for some reason they hurt me. I mean I am in quite a bit of pain no matter which skates I tried; enough pain that I was unable to skate. I decided to try quad skates because I thought a different style might help. I love my Impala skates. They are so comfy. I am a complete beginner but I am able to wear them without pain and skate in them everyday. The floral is gorgeous. So glad I bought them!
11/27/2020
Jessica M.

Canada
SO HAPPY
The skates arrived much faster than I expected and came with a lovely little hand written note which I appreciated a lot. I had been wanting to buy a pair of roller skates since the beginning of the year so I am so happy to finally have a pair!