In Do
Indo Trampoline Scooter
Arriving Feb 28th
● WORLD FIRST OFFICIAL TRAMPOLINE SCOOTER - the patented deck that won't damage the trampoline mat.

● TRAIN TRICKS AT HOME - patent pending technology enables training scoot tricks indoors on your home floor.

● TECHNIQUE - perfect for tweaking your scootering technique and honing your skills.

● LIGHTWEIGHT AND SAFE - giving you the confidence to try and execute the dream tricks.


● FUN - gives you a new dimension to your trampoline play whether you scoot or not.
● < 150cm riders, under 50kg
● product weight ~1kg 
● Aluminum handlebar, height 57cm, width 43cm
● hand grips
● deck made of soft and elastic material, pre-greased bearing base
● installation instructions, integrated to package
● screws, washers and other parts for assembly (plastic bag)
Customer Reviews
Write a Review
Ask a Question
01/11/2021
Karli P.

Canada
I recommend this product
Tramp scooter
Our son loves it!!
01/05/2021
Roselyn L.

Canada
I recommend this product
Trampoline Scooter
Bought for my Grandson. Best gift ever. Loves it.
01/05/2021
FRANCIS G.

Canada
I recommend this product
Indo - Excellent
Amazing - many hours on it since Chirstmas. Recommend this product to any scooter enthusiast. Shipment was very quick right before Christmas. Top notch.
01/04/2021
Mona W.

Canada
I recommend this product
AMAZING PRODUCT
I got this for my son for Christmas. I think this was probably the best present in his whole life. He loves this tramp scooter so much, that he has not missed one day of using it. He can't get enough of it. Truly an amazing item. So well made. Well done!!!!!!!!!!
12/23/2020
Janick T.

Canada
I recommend this product
Good service
Very good. Very fast.
12/21/2020
Elizabeth T.

Canada
I recommend this product
Haven't tried it yet
It is a Christmas gift for my son so we haven't tried it yet and since we live where there is snow, he won't be able to get it until the Spring.
12/16/2020
Brad P.

Canada
I recommend this product
Quick service
Everything was fast and it was easy to order on line
12/15/2020
Tom

Canada
Confusing height description
I just received the Indo 670. It came nice and quick, thank you. What I am disappointed about it how the scooter (the 670) is described on your website. From the picture it seems as if the height is adjustable by 10 cm from 570 to 670 with some kind of riser. "Complete + Riser 670" and the "+ 10cm" to me meant you get the 570 which is adjustable to a 670. The scooter is however NOT height adjustable, it is a fixed height. I think you should make that clear on your website. I may have purchased the wrong size because of it. I won't know until my son opens it at Christmas.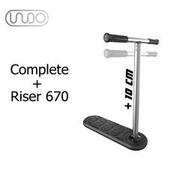 12/15/2020
Sarah L.

Canada
Great for my scooter lovin boys!
Bought as a gift for my 2 boys 8 & 12. They love practicing their scooter tricks on the trampoline with this!
12/11/2020
Lorrie S.

Canada
Only one in CAN
Easy to order, fast to arrive. Was the only one I could fine in Western CAN; glad to be able to shop local.
12/08/2020
Sue H.

Canada
Great service!
This is a Christmas gift so unable to review until dec 25! Arrived on time.
12/06/2020
Rachelle r.

Canada
Great customer service
We purchased this product and in a couple weeks there was a part that broke. I emailed the company and within days I received my new parts at no cost. And my son is back to tramp scootin!! He loves this thing. Its so much fun.
11/24/2020
Rick A.

Canada
Literally won't stop using it
Bought for 12 year old. He just keeps jumping and yelling the random names of tricks. Just bounce, bounce "DOUBLE TAIL WHIP!!!", bounce, bounce. Buy one. Whoever you are buying it for will love it. It is silly and fun.
11/20/2020
Deanna A.

Canada
The kid is happy
Good. How much is a replacement foam deck?
11/11/2020
Ms K.

Canada
10/16/2020
Giang P.

Canada
So much fun
Great product